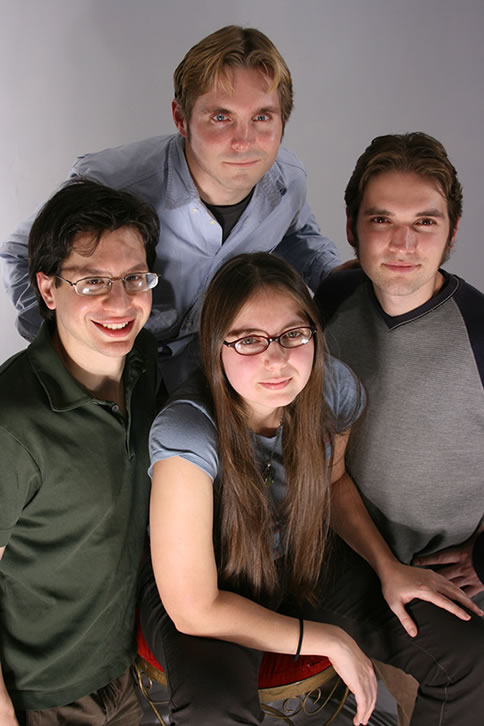 ABOUT PBC:
Demand for quality videos on the internet is growing exponentially! PBC Productions, based out of NYC, is a pioneer in distributing higher-quality internet TV. PBC's first live-action series, The New Adventures of Captain S, combines the nostalgia of video games, Saturday morning cartoons, and popular late 80s/early 90s sitcoms - with explosively entertaining results! Since launching pbc-productions.com in January 2007, PBC has released a new video every single Friday, compiling a catalog of compelling documentaries, humorous shorts, and fun video game reviews. Specializing in subculture from anime to video games and from puppetry to nerdcore, PBC's passions create programming to entertain and educate.
Brett Vanderbrook:
Born and bred in Buffalo, NY, Brett began performing at a young age (mostly to keep warm and distract himself from all those Bills Superbowl losses.) In college, he joined the Fredonia State Improv Society and subsequently met the guys who would go on to form X-Strike Studios. Brett moved to New York City after graduation to hone his craft, got back in touch with Chad, and the rest is history. Or future.
Darrin DeMarco:
Raised on the Atari 2600, Darrin has been enjoying video game consoles from a young age. He is an alumnus of Villa Maria College, and SUNY Fredonia, where his areas of study spanned from Music Performance and Education, to Media Arts, Marketing, and Sound Recording. A former Director of the Fredonia State Improv Society, Darrin became a writer, director, actor, and staff member for X-Strike Studios, before eventually moving to NYC to re-unite with longtime friends Chad and Brett. Darrin shares many passions in life besides gaming, such as music, working out, and cooking. He hopes to one day find a way to combine all of these interests into one activity.
Lindsey "Z." Briggs:
Puppeteer, Actress, Puppet Builder, Webdesigner, Production Manager and many other such hats, Z. is a SUNY Fredonia and University of Connecticut Alum, and has since gone on to pursue her dream of Puppetry. She is currently performing as "Lottie Lamb" on the PBS kids show - "Seemore's Playhouse"
Chad Williams:
After earning his BFA in Media Arts from SUNY Fredonia, Chad shot and cut several original shorts and features, ranging from event documentaries to rap musicals. Inspired by legendary indy filmmaker Robert Rodriguez, he has been continuing his education by working on high budget films in New York City. His passion for filmmaking is matched only by his love of videogames.